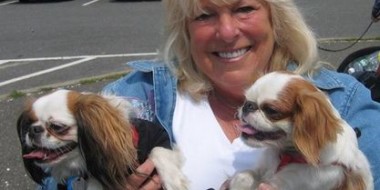 You saved my life! Many thanks to the HerScan Program!
- Iris Hoffman
I had breast cancer a number of years ago and had been getting regular Mammograms with nothing showing up. I decided to get the HerScan Ultrasound screening and the test results showed an abnormality. I took the results to my doctor.  I insisted that they check it out.  We caught it early enough and I did not need radiation or chemotherapy. I am so thankful that I found the HerScan program – the medical staff was wonderful.
- Iris Hoffman, Sanibel, FL
I have always had my annual mammograms but I was concerned about a lump I felt. So I scheduled an screening with HerScan. Thank god I did! If I had not gone to HerScan for my breast cancer ultrasound, I may never have found out that I have had cancer for at least 2 years now! When I recieved my positve result from HerScan, my doctor scheduled a biopsy and YES, I HAVE CANCER. Not just in one breast, but both. 
- Mie, Boca Raton, FL
These ladies are super sweet and they know what they are doing. I had an ultrasound done with them. Results came back with two areas of concern. With me being 32 yrs old…my Dr wouldn't send me for a mammogram, since he said I had to be 40+.  I took my results of the ultrasound to my Dr. She which after more tests, it wasconfirmed it was indeed cancer. This company helped get the ball rolling. I would definitely recommend them!!!! Thank you HERSCAN!!!!!!!
- Candice, Atlanta, GA
Today I had my first exam with your company. It was the best service I have ever received from a medical provider.
- Cindy, Daytona, FL
This was my first experience and I absolutely loved it. The ladies at the front desk we're very helpful and sweet and comforting. This testing was very easy and relaxing and took no time at all! Happy camper here. Thank you.
- Carmen, Laguna Niguel, CA
I got my Breast Ultrasound from you all and it saved my life! My doctor told me my lump was a cyst and I didn't feel right about it so I made a appointment with you and here I am 2 yrs later a survivor! Stage 2, double mastectomy .
- Kirstin Peterson, The Woodlands, TX
This was my first experience with a breast ultrasound. I enjoyed the experience; my technician was very courteous and professional. I appreciate your company offering women this benefit;I presently am uninsured and the price test was reasonable. I definitely will pass this on to others; and most definitely will be returning.
- Dana Ross, The Florida Keys
This is my third time experiencing the HerScan service and each time in a different location with a different technician….. Orlando, Sarasota and today, Clermont.  Each time I have experienced respect, friendly technicians and on-time appointments. The results after my last two scans were delivered in the timeframe promised.  I have no problem paying out-of-pocket for this service.  Thank you for making it possible.
- Sandi Clark-Martin, Jacksonville, FL