Next Post
Have a Healthy Holiday with These Antioxidant-Rich Foods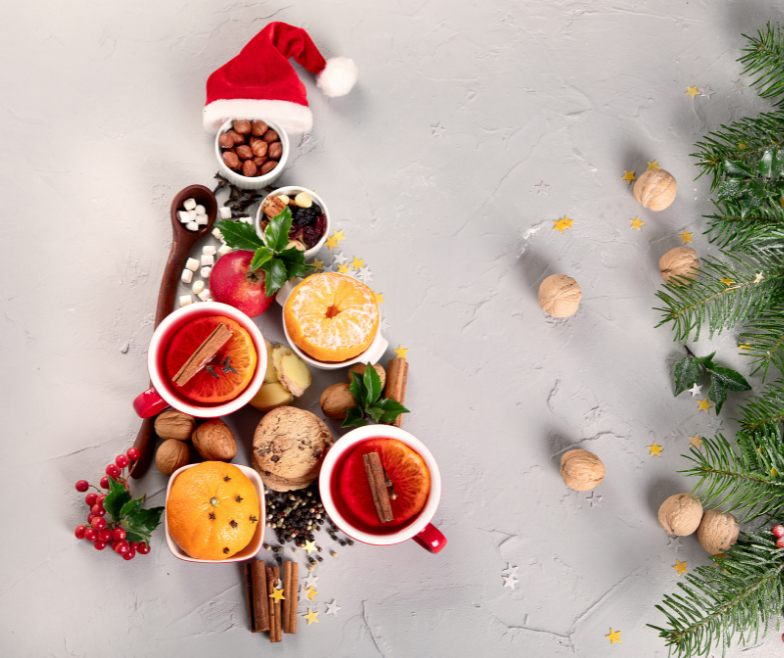 'Tis the season for holiday cheer and festivities! While indulgent food is typically considered the cornerstone of the holiday season, it does not always mean it has to be unhealthy. The truth is, there are many ways to incorporate nutritious, antioxidant-rich food into your holiday menus. Continue reading for some holiday-inspired recipes that will make you feel as good as they taste.
The Power of Antioxidants
I'm sure you're familiar with the term antioxidants and their relation to healthy eating, but what exactly are they? 
Antioxidants are chemicals that play a critical role in neutralizing free radicals in the body. Free radicals are created in your body from various environmental exposures, such as tobacco smoke and radiation. Antioxidants are naturally created in the body, but your body still relies on outside sources, such as your diet, for an antioxidant generation. There are many types of foods that are high in antioxidants, including fruits, vegetables and some grains. For those concerned that they are not getting enough antioxidants in their food, there are dietary antioxidants that can be taken, including beta-carotene, lycopene, and vitamins A, C, and E.
In recent studies, increased levels of antioxidants have been shown to slow or prevent the type of free radicals that are associated with the development of cancer.
Cranberry Sauce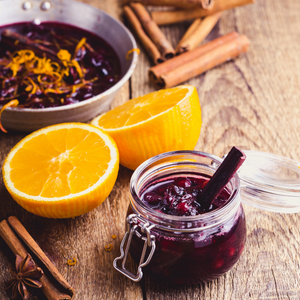 Did you know that this holiday staple is an excellent source of antioxidants? Cranberries are a low-calorie and low-carb option to add to your table.
 Cook Time:

1 hour

 

Total Time:

1 hour 15 minutes

 

Yield:

4–6 servings 
Ingredients
2 cups fresh cranberries

1 large pear peeled, cored and sliced in half

6 pitted organic pitted dates 

3/4 cup dry red wine, such as Pinot Noir

3/4 cup orange juice

1/4 cup white raisins

1/4 cup raw honey

2 teaspoons orange zest

2 teaspoons minced fresh ginger

1/4 teaspoon unrefined sea salt

Extra virgin olive oil, enough to brush pears, and coat the bottom of a saucepan
Instructions
Position rack in center of oven; preheat oven to 400 degrees. Place the pear halves on parchment-lined baking sheets, brush with olive oil and roast until tender, about 40 minutes *see notes. Remove pears from oven and set aside to cool.

Chop pears into small pieces when cool enough to handle.

In a large saucepan over medium-high heat, add the oil. Add cranberries, orange zest and ginger.

Stir until cranberries begin to burst, 3 to 5 minutes.

Add wine, orange juice, white raisins, honey, and salt; simmer until mixture is reduced, about 15 minutes.

Stir in the roasted chopped pears.

Transfer 1/4 of the mixture to a

high-speed blender

, and add the dates. Process until dates are pureed.

Transfer the pureed date-mixture back to the saucepan and stir to combine.

Serve cranberry sauce warm, or chilled. Enjoy! 
Sweet Potato Casserole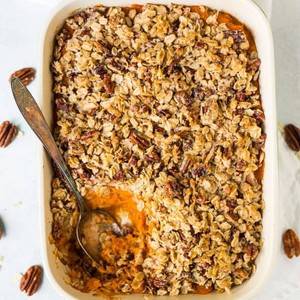 Eliminate harmful free radicals in your body by consuming more sweet potatoes in your diet. Sweet potatoes, especially orange and purple varieties, contain a high amount of antioxidant properties and are an excellent addition to your holiday menu. 
Cook Time:

1 hour 20 minutes

 

Total Time:

1 hour 30 minutes

 

Yield:

10 servings 
Ingredients for the sweet potatoes: 
4 1/2 pounds sweet potatoes

scrubbed (about 4–5 very large sweet potatoes)

1 cup unsweetened vanilla almond milk

2 vanilla beans 

2  tablespoons 

virgin coconut oi

l

melted

3/4 teaspoon ground cinnamon

3/4 teaspoon kosher salt

1/2 teaspoon  freshly grated nutmeg  

1/4 teaspoon white pepper
Ingredients for the oats:
1 /3 old-fashioned rolled oats 

1  cup roughly chopped pecans 

1/2 cup almond meal

1/4 teaspoon ground cinnamon

1/4 teaspoon kosher salt

5 tablespoons melted coconut oil

1 tablespoon pure maple syrup
Instructions
1. Preheat the oven to 375 degrees. Lightly grease a 9×13-inch casserole dish or other 3-quart casserole dish and set aside.

2. Prick the sweet potatoes all over with a fork, then place them on a baking sheet lined with foil or a silpat mat. Bake until the potatoes are fork tender, about 1 hour or so, depending upon the size of your potatoes. Remove from the oven and let sit until cool enough to handle, about 5 minutes. Peel and discard the skins (they should come off easily with your fingers), break the potatoes in large chunks with a fork, then place the chunks into the bowl of a standing mixer fitted with the paddle attachment or a large mixing bowl.

3. While the potatoes bake, pour the almond milk in a small saucepan. Split the vanilla beans, scrape the seeds into the pan, then add the empty pods to the pan too. Bring to a very gentle simmer over medium heat for 5 minutes, stirring occasionally. Do not let the almond milk boil. Remove from heat and let the vanilla steep while the potatoes continue baking.

4. Remove the vanilla bean pods from the saucepan, then pour the almond milk and vanilla bean specs into the bowl with the sweet potato chunks. Add the melted coconut oil, cinnamon, salt, nutmeg, and white pepper.

5. Mash the potatoes together with the milk and spices (or beat gently with a mixer or your paddle attachment or run through a food mill) until fairly smooth with some texture remaining. Taste and add additional salt/pepper as desired. Transfer to the prepared baking dish. With the back of a rubber spatula, press and smooth into a single layer.

6. In a separate bowl, combine the topping ingredients—oats, pecans, almond meal, cinnamon, salt, coconut oil, and maple syrup—until moist and evenly mixed. Sprinkle over the sweet potatoes.

7. Bake until the topping is toasted and fragrant and casserole is warmed through, about 20 minutes. Serve warm.
Red Wine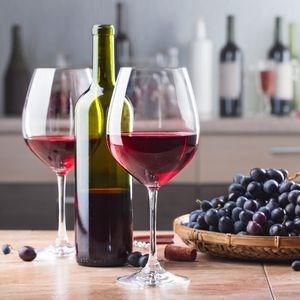 Consuming a moderate amount of red wine has been shown to provide many health benefits due to the grapes the wine is made from. Beneficial antioxidants in red wine include resveratrol, a compound found in the skin of a grape. Resveratrol has been shown to fight inflammation in the body, help prevent blood clotting and reduce the risk of certain types of cancer. 
Enjoy these Antioxidant-Rich Foods this Holiday Season!
Science says that eating certain foods can reduce our risk of developing breast cancer. At HerScan, we advocate that you do everything in your power to protect your health. Incorporate these foods into your diet consistently to receive these health benefits and feel better each day.
If you want to do more for your health, schedule a Breast Ultrasound Screening appointment with us. HerScan is a mobile breast screening service, meaning we travel all over the country to hundreds of different cities to hold our health events. ​Click here to schedule an appointment in your city today.